You depend on the plumbing in your kitchen to supply you with clean water on demand whenever you need it. While your plumbing may do its job without fail for decades, there will come a time when a plumbing emergency of one sort or another may arise unexpectedly. In those circumstances, a 24/ 7 plumber can be your ally in minimizing damage to your home and preventing the ensuing stress. An
emergency plumber in Marietta can usually respond quickly and help you avoid the potential disaster that is a significant plumbing leak.
However, you can do your part to limit the damage by gaining and maintaining a working knowledge of your kitchen plumbing. Also, it's important to know whether your issue requires professional help or whether you can handle it yourself without hiring a plumber. The principles behind your plumbing are rather simple, and understanding how things work in the kitchen can help you make wise decisions that will reduce your chances of bigger issues in the future. Keep reading to learn what you need to know about your kitchen plumbing.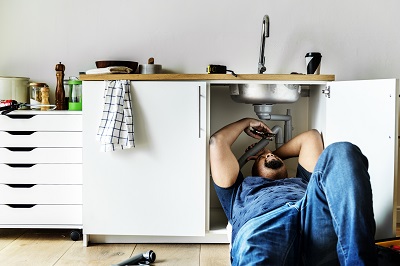 How to Turn Off Your Water
While everyone knows how to turn on a faucet, not everybody knows how to turn off the water to a fixture or appliance in the event of an emergency leak. That's critical knowledge for mitigating the situation until your trusted plumber can arrive on the scene to assess the situation and make a repair. Remember, the water in your supply lines only travels one direction. It moves from the street towards your home's fixtures. When you have a leak involving a fixture, you can immediately stop the leak by looking for the shut-off valve and turning it until the water stops flowing. If the leak occurred in a wall or behind the shut-off valve, your best bet is to look for a main shut-off valve outside the house or turn the water off at the meter. Finding the appropriate valves in the midst of an emergency is difficult, so it's wise to find them before you need them so you can spring into action quickly.
Learn to Read the Meter
Your water meter isn't just helpful to your local utility company. It can also be useful in determining if you have a leak, and if so, where that leak is located. Most meters have a small red triangle that turns when there is water moving through the line. To determine if you have a leak, make sure all the fixtures in the home are closed and watch the triangle. If there's no leak, the triangle won't move. If there is a leak, however, you will see the triangle spin. Next, you can use the same method to determine if the leak is in the house or in the main between the meter and your home. If you have a shut-off valve on the outside of your home, close it. If you see movement of the triangle, the leak is in the mainline. If it stops, then starts again when you reopen the main valve, the leak is in the house.
How to Clear the P-Trap
Your kitchen drains have a pipe structure known as a P-trap beneath them that is designed to prevent sewage gas from bubbling back into your home. The P-shaped structure features two bends, which can create a sticking point for debris that is too large to go down the drain. When that happens, the drain will become stopped up, and nothing will go down. In many cases, a clogged trap is easy to clear and doesn't warrant assistance from a plumber. However, if the trap is further down the drain, you will need a plumber to clear it for you. Learn where the trap is located and how you can disassemble it to determine if it's the source of the clog or slow drain. If it's all clear, it's time to call a plumber to get things flowing again.
Without a little knowledge of your kitchen plumbing, it can be difficult to determine whether a DIY fix is in order or if it's best to contact a
cheap plumber in Marietta to help you with your plumbing emergency. To learn more things about kitchen plumbing, contact Southern Phoenix Services at (770) 455-2700.